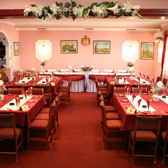 Complete organization of the most important day in your life. Modernly decorated hall, a large space with capacity up to 350 seats, decorations, wedding menu designed to delight your finest tastes, as well as friendly and professional staff which will be at your service at all times.
MK STAR is capable of creating a spectacle to be remembered out of your wedding, with our own array of special surprises. You can create your own menu, or choose one from our standard offer – menu.
Hotel MK STAR gives a WEDDING GIFT PACKAGE to the newlyweds: A LUXURY GOLD APARTMENT FOR THE NEWLYWEDS, a fruit basket and bottle of champagne.
For years, our dear newlyweds receive custom-made glasses for champagne as a gift, engraved with their names, the wedding date and the logo of our restaurant, as a unique keepsake for their new beginning.
Restaurant cooperates with renowned bands with varied musical repertoire, as well as with the Brass band, whose arrival is provided by MK STAR HOTEL completely free of charge.
And that's not all - we also offer specific benefits when contracting the music, purchasing / renting wedding dress, suit for the groom, makeup and hairstyles, ordering a wedding cake, limousine rental, and thematic decoration of the hall.